lc-ca

Store update
FAQs
Our commitment
Our stores are open
From Monday to Sunday with usual business hours.
Click on the link below to find your nearest LensCrafters store.
The health and safety of our patients and staff remains our top priority. All stores are back to providing routine eye care in alignment with federal, state and local guidance's. Patients and customers are required to wear masks. Please call the local office to speak to an eye doctor for more information prior to your visit. In light of the COVID-19 outbreak, we want to ensure the safety of our patients and employees. We are taking steps to ensure wherever enhanced sanitation measures are possible, that they are being implemented.
Protecting your Eyes & the Community
We've created a customer and patient experience that prioritizes hygiene and safety without sacrificing our quality of care.
HAND & RESPIRATORY HYGIENE.
Doctors and associates are operating with protective equipment.
Doctors and associates are thoroughly cleaning their hands before every patient and customer interaction.
Hand sanitizer and disinfectant wipes are available for everyone in store.
SURFACE SANITIZATION.
Doctors' equipment is thoroughly cleaned before every exam.
All products on display are thoroughly cleaned.
Associates are cleaning the store throughout the day.
Associates are disinfecting every pair of glasses after they're tried on.
SOCIAL DISTANCING.
Visitors are gently reminded to maintain social distancing.
The number of customers and patients entering the store is limited.
Thanks for helping us! And remember, if you're experiencing symptoms of respiratory illness, including cough and fever, please stay home.
Frequently asked questions
Are your hours of operation staying the same?
We are operating with usual business hours in most locations. Please check the hours of operation for the store nearest you on our website.
What are you doing to 'flatten the curve' on the spread of COVID-19?
Our organization has established an Emergency Response Team in North America to evaluate and respond, in real time, to the needs of our people as well as our valued customers. Our proactive approach incorporates the guidance of the CDC (Centers for Disease Control), the WHO (World Health Organization), the American Optometric Association (AOA), as well as that of our own internal experts who have decades of experience managing through global crises. The precautionary measures we have put in place range from employee safety procedures to heightened cleaning protocol across our factories, stores and offices and stricter vendor and visitor policies.
What if I have a question that was not listed here?
For any questions you can reach our customer care center directly at 1-877-753-6727. Our LensCrafters.com website is open 24/7 for you to visit and shop online.
What steps are you taking for elderly and vulnerable patients?
Where possible, we have established dedicated time to care for elderly and vulnerable patients. Please call the office to schedule your appointment so that we can give precedence. In accordance to CDC guidelines and social distancing best practices, we're recommending where possible: - To reserve a dedicated time for essential care visits for elderly and vulnerable patients - Lengthening the time between exams to enable social distancing (6 ft) and allow for proper cleaning & disinfection between patients. - Heightened safety protocols including protective equipment and enhanced cleaning measures
Is it safe to try on glasses on display?
Every pair of glasses displayed is thoroughly cleaned by our associates before being placed back on a display for a customer to try on.
Where are your products made?
Our products are made in one of our Luxottica-owned plants in either the U.S., Italy or China depending on the product. When our products leave our factory, they are packed and shipped by a carefully trained staff member after undergoing extensive checks.
Are your packages safe to open?
Yes. When our products leave our factory, they are packed and shipped by a carefully trained staff member after undergoing extensive checks. Furthermore, according the World Health Organization, it is safe to open packages from China, Italy and other countries where COVID-19 has been reported.
Are packages coming from China and other high-risk countries safe to open?
Coronaviruses have poor resistance in the environment, so the possibility that the virus is transmitted by goods that travel for days or weeks at room temperatures is low. Current scientific knowledge suggests that coronaviruses propagate only through droplets of biological fluids.
LensCrafters is part of Luxottica Group, which has taken a number of steps in response to the COVID-19 pandemic, both in North America and Italy, to protect customers, employees, partners and medical workers.
In the U.S. Luxottica is donating 8,000 pairs of protective eyewear and 100,000 medical masks to hospitals in New York, California, Atlanta and Cincinnati.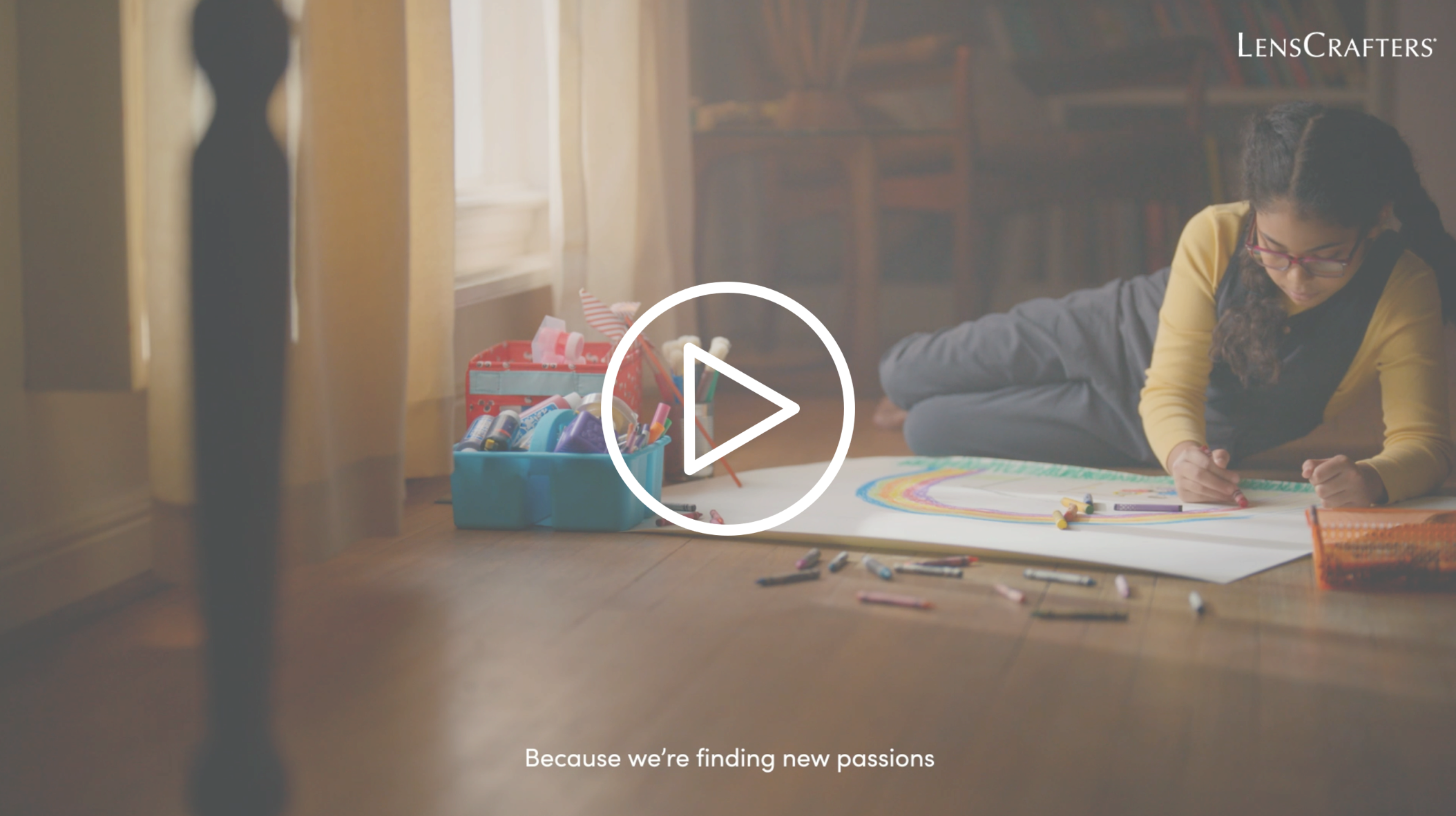 Show transcript
It's all a little different now. Because we're spending more time with the ones we love. Because we're finding new passions. Because staying safe is important. We are here thanks to our Doctors and Sales Associates who have kept services going for your vision needs. All our services and revised opening hours are available online at LensCrafters.com LensCrafters, Because Sight.
Your vision care remains our priority.
Whether you visit us in store or online, all of our services are designed to make your experience easy and safe.